This article will help you set up of a web site on a Windows server. We will accomplish this by performing these operations:
create a folder to storethe website files, add the website to IIS, bind the website to one or more domains.
1. Create a folder on the hard disk for the website files
Create a new folder on the server's hard disk (e.g. "c:\inetpub\sites\mywebsite") and copy all site files in this folder.
If you need to setup FTP access to this folder please follow these instructions: IIS: How to setup an FTP account to access a generic folder on a Windows server
2. Create a website in IIS
Launch "Internet Information Services", navigate to "Sites" and create a new website: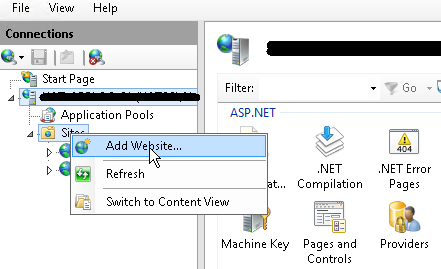 Provide a name for the website in IIS and point it to your target folder. Please note that IIS will automatically create a dedicated application pool for your website. You may override this behaviour by clicking on the "Select..." button and selecting an existing application pool.
Select an IP address for this website and specify the domain that points to it: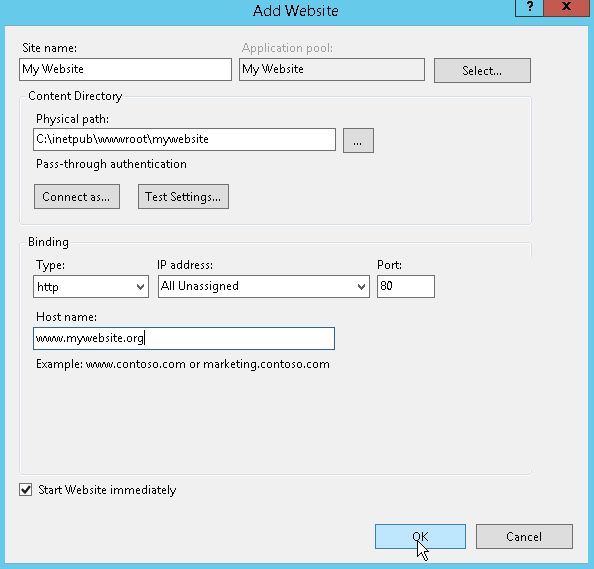 Click "OK" and the website will be created. If you can't see it in the list, press F5 to refresh the IIS page.
3. Bind the website to one or more domains
Your website in folder "c:\inetpub\sites\mywebsite" is now bound to URL "http://www.mywebsite.org". You probably want to add additional bindings pointing to the same website (like "http://mywebsite.org" or "http://chinese.mywebsite.org"). You can do that by selecting your website in the list, then clicking on "Bindings" (right pane):

You can see that there's already the binding we added when creating the website. Let's click on "Add" to bind the site to another domain: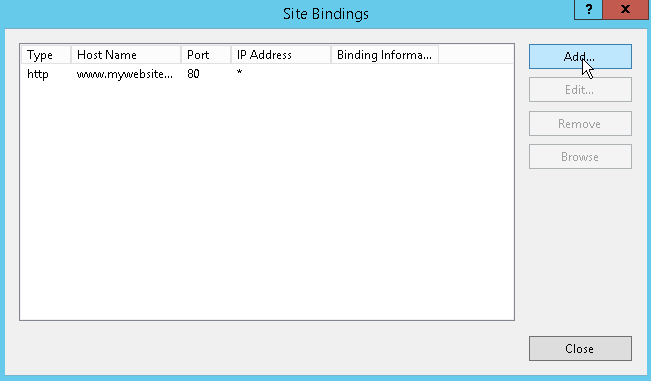 Insert the new binding then click "OK":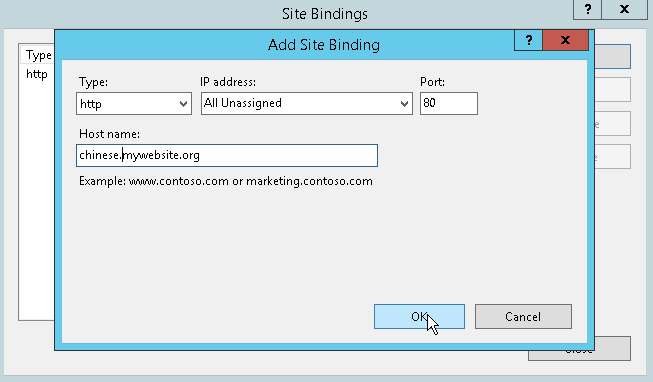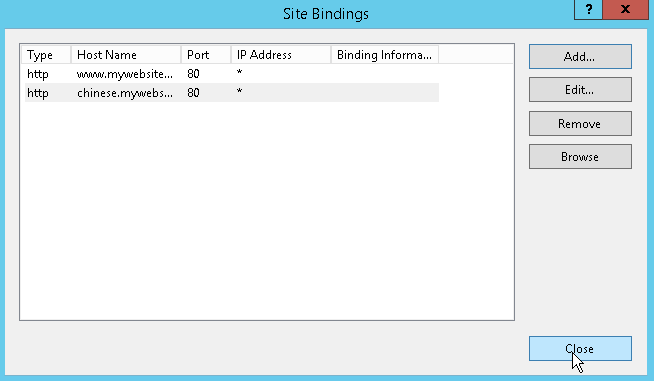 Your website is now properly bound to your domains and ready for use.
Hope this helps ;)